Mid-Autumn Festival: What is it about?
Mid-Autumn Festival falls on the 15th day of the 8th lunar month. When Singaporeans think about Mid-Autumn Festival, mooncakes immediately come to mind. Well, mooncakes and the full moon.
The Editor
| Aug. 9, 2021 | 447 reads
Credit: Pixabay
The Myth: Why exactly do we celebrate the Mid-Autumn Festival? There are several stories behind this.
One version of the legend has it that there was a husband and wife. Hou Yi, the husband was a magnificent archer, and his wife was the beautiful Chang'e. Then came a time when ten suns rose in the sky. There was drought due to the extreme heat and crops simply would not grow. Hou Yi, the archer, then shot down 9 of the suns, leaving us with just 1 sun. As a reward for saving the world from famine, the Heavens gave him an elixir of immortality.
Here comes the romantic part. Because Hou Yi did not want to become immortal without Chang'e, he gave the elixir to his wife for safekeeping. When a burglar tried to take the elixir, Chang'e drank the elixir instead. Thus, she floated up to the moon and remained there, immortal.
But what about the mooncakes?
Mooncakes were said to be Chang'e's favourite. Thus, to commemorate her, mooncakes are eaten during the festival.
Mooncakes are also eaten to honour the rebellion of the Han Chinese. Secret messages were said to be baked into mooncakes and distributed, in a bid to overthrow the cruel Mongol rulers. The messages asked people to join the rebellion that was to take place on the 15th day of the 8th lunar month. The uprising was successful.
MOONCAKES!
Credit: Pixabay
The Mid-Autumn Festival is the perfect time to get your mooncake fix.
But what exactly are mooncakes, you ask?
These round sweet treats have intricate custom designs on it. Traditional mooncakes are baked to a delicious brown colour and filled with various filling, including lotus paste, salted egg yolk. Modern takes have various fruit flavours and even liquor.
Warning: Calorie-watchers beware. These indulgent delicacies may sometimes contain 4 egg yolks.
There are new flavours introduced to the market (and to cater to the more experimental taste buds of millennials). There are mooncakes of the snow skin variety, which are soft, delicate and held together by skin made from glutinous rice. Flavours range from different fruits, chocolate, green tea, or liquor-infused.
If you're looking for places to get them, worry not. They are available everywhere. From small bakeries to Chinese restaurants to hotels. Retail prices normally range from S$50-S$120 per box of four. Packaging are normally gorgeous, so they would be great as gifts.
Of course, you can get single pieces as well.
In our case, we normally share one mooncake because… well, one mooncake is too rich and indulgent not to share!
LANTERNS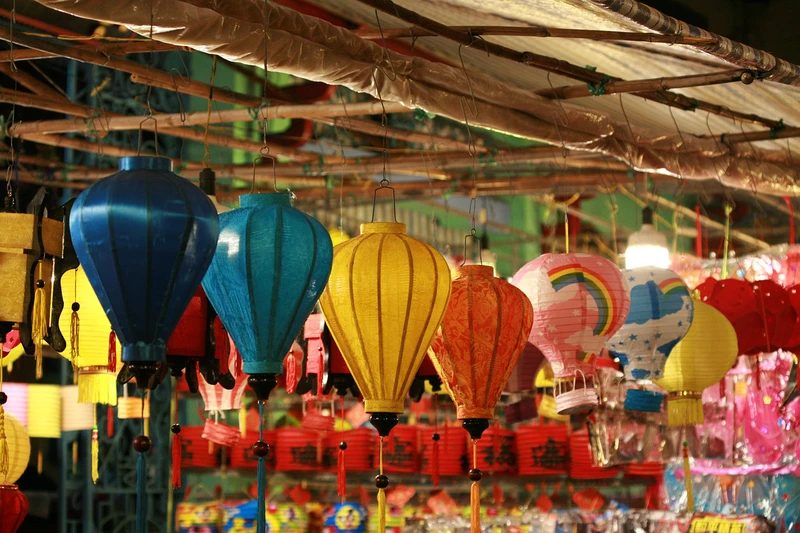 Credit: InSingapura.com
Something else that you will notice before the Mid-Autumn Festival is the abundance of lanterns lining the streets of Chinatown. Chinatown normally has massive lanterns lining the streets, creating a festive atmosphere.
Of course, with COVID-19, that festive mood has been severely diluted. But this is something to look forward to once we get out of this… uh, situation. There used to be gorgeous lantern displays at the Chinese Gardens too. To get there, take the East-West Line (green) and alight at Lakeside MRT station. The best time to visit was after dark. Entrance is free (and hopefully it will remain to be free).
Traditional paper lanterns are made of paper with a candle right smack in the middle. A true fire hazard, is it not? Because we obviously evolve, and because seeing paper lantern burst into flames is not exactly FESTIVE, most lanterns now are electronic lanterns.