Is Singapore River Safari Worth the Trip?
The Singapore River Safari is worth the trip. It may be difficult to get there, but once you are there, you will have lots to do and your day will be jam-packed with activities.
The Editor
| Aug. 9, 2021 | 761 reads
Credit: InSingapura
The Singapore River Safari was one of the most awaited attractions in Singapore a few years back. This is thanks largely to the giant pandas, Kai Kai and Jia Jia. These pandas were originally from China. Hence, they're only "permanent residents".
WHAT TO BRING AND WEAR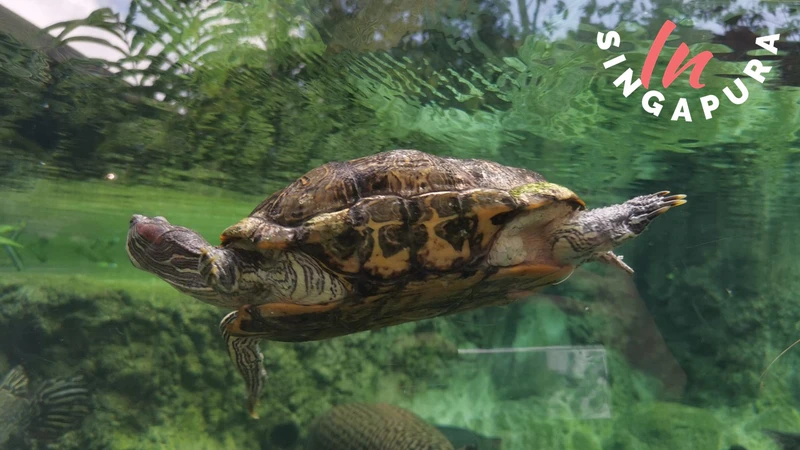 Credit: InSingapura.com
We visited the Singapore River Safari under the sweltering July sun, so here's a tip: wear sunscreen. Although most of the grounds are covered with canopies, there are open spaces too. Wear light clothing, extremely comfortable walking shoes (emphasis on EXTREMELY), bring a cap/hat, portable umbrella and of course, bottled water.
You can also throw in some light snacks that you can munch on if you get hungry. It will take more than a few hours to get the full River Safari experience, I tell you. With senior citizens in tow, it took us about 5 hours (including a quick lunch break) to fully enjoy the park.
BOOK YOUR VISIT IN ADVANCE
It would be wise to book your ticket in advance at https://www.wrs.com.sg/en/ticketing/admission-and-rides/parks-selection.html so you won't have to queue up. However, we visited on a Tuesday (not a peak period) and there was no queue at the ticket counter. Expect a lot of people on weekends and holidays though. So, yes book your tickets in advance.
The good news? You can find promo bundles on the website occasionally. For example, you can get to visit 2 parks (River Safari and Singapore Zoo) for a fraction of the cost.
HOW TO GET THERE
Singapore River Safari is located at 80 Mandai Lake Road, Singapore 729826.
There are quite a lot of ways to get there. We got there via Grab. We stay close to the City, so it was about a 30-40 minutes ride. You will get dropped off right at the ticketing area (the entrance). However, if you're driving, there is ample parking space.
If you're taking public transport, take the North South Line (red line) and alight at Khatib Station. There is a Mandai Khatib Shuttle there which will cost you around S$3.
FACILITIES
Credit: InSingapura.com
All stores accept NETS and Credit/Debit Cards. However, if you want cash, there are POSB and UOB ATMs near the entrance, right next to Mandai Mart.
You can also rent a stroller if you have infants with you. Wheelchairs are complimentary, but electric scooters are not. You'd have to rent electric scooters if you need to.
For those visiting the park with elderly, it would be best to rent scooters or borrow a wheelchair because touring the area will take a lot of walking.
WHAT TO SEE
Credit: InSingapura.com
Now, the River Safari is divided according in zones, which are basically some of the world-famous rivers. Each of these zones contain the wildlife that are native to them.
Currently we have:
Amazon Flooded Forest which features wildlife from the Amazon river (you guessed it). This is one of the most exciting parts of the park because it recreates the forests along the Amazon's banks which have become submerged in over 10 metres of water. Definitely a must-see! The experience is absolutely breath-taking. This is also a good spot for you to sit down and just enjoy the LARGE glass aquarium.
Congo River. Congo is one of the world's deepest rivers. Some of the most interesting and colourful fish are here such as the Blue Cichlid, Lemon Cichlid, and Large Spot Catfish. With the variety, you will not get bored.

Ganges River, India's longest river which flows through India and Bangladesh.
Mary River of Queensland, Australia. Haven't seen a mudskipper yet? Well, you'll see that one here.
Mekong River. Here, you'll find the Mekong giant catfish (sans whiskers), which are massive in size and critically endangered. The Mekong River is the most productive river in the world and the tenth largest river. According to their website, the Mekong Basin is home to over 850 species of fish, making it second only to the Amazon.
Nile River. River Safari brought the jewels of East Africa's Great Lakes to Singapore
Yangtze River. Yangtze, or 'Chang Jiang' ( 'long river' in Chinese), is the longest river in Asia and holds 40% of China's freshwater. Millions of people, wildlife and even the reclusive giant pandas depend of the Yangtze.
Now one the highlights of this park is the Giant Pandas. Kai Kai and Jia Jia, Singapore PRs are on a 10-year loan from China. Their diet is mainly bamboo and they come from the Mountains of Sichuan, Shaanxi and Gansu provinces.
The pandas are quite shy though. So you would have to patiently wait for them.
By the time you tour around the park, I'm pretty sure you'd be starving. There is a Starbucks at the entrance, if you somehow manage to complete the tour before lunchtime. However, if you haven't, there's a Mama Panda Kitchen close to the Giant Panda Forest. They serve Chinese cuisine which is on average, $10 per person.
There's indoor and outdoor dining, so you don't have to worry about seating.
HIGHLIGHTS
Do not miss out on the Amazon River Quest. This quick boat adventure will test your keen senses. There is no canopy here though, so make sure you bring a hat.
However, you can only purchase tickets to the Amazon River Quest online. So make sure you purchase in advance. Adult tickets cost $5, while Child tickets cost $3.
VERDICT: Yes, it is worth your time
However, since it is way too far from the city centre, make sure you visit other parks within the vicinity, too. It might be worthwhile to check out the Night Safari as well.